---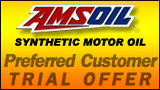 ---
Buy Wholesale
---
- NEW -
Amsoil Dealer ONLINE Registration the Fastest Way to Register
USA - Paper
Canada - Paper
Become an Amsoil Dealer and Buy at Wholesale Prices
Amsoil Preferred Customer Trial Offer Buy 25% Off Retail
Open a Commercial Business Account On-Line
Retail Accounts Sell AMSOIL in your Store or Shop
Amsoil Dealer Wholesale Price List
---
Request a Free Factory Catalog, Product & Technical Info
Toll Free 877-786-9582
---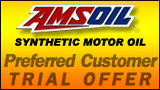 ---
Buy Now Online Store

To Order AMSOIL Products by Phone from Factory Call
7AM to 5PM Central Time
800-777-7094
Give the Operator
Reference # 1173195
---
Corporate Company, Products, and Opportunity Videos
---
Amsoil Snowmobile High Performance Oils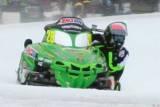 400,000 Miles of Snowmobile Testing - No Power Valve Sticking, Ring Sticking, & No Engine Failure!
A Look at Snowmobile Exhaust Power Valves
Amsoil Snowmobile Racing & Sponsorship
---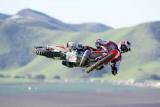 ---

Amsoil Motorcycle Synthetic Oils
AMSOIL Quality Impresses Harley Riders

AMSOIL Does not Void Harley Warranty
Why Harley Owners Choose AMSOIL Vs HD Oils
*NEW* EaO Synthetic Motorcycle Oil Filters Outperforms all other Cellulose and Synthetic Filters, Period
*NEW* EAA Synthetic Motorcycle Air Filters Surpasses all other Technology, Period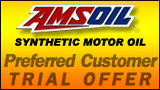 ---
Expert Advice For Your Vehicle
---
---

Amsoil Transmission Product Guide
---
Amsoil Turbo Diesel Pickup Truck Information Section
---
Ford Power Stroke 7.3 and 6.0 Turbo Diesels
Biodiesel Fuel and its effects on Engine Operation and Lubricant Service Life
*New* - Diesel Fuel Additive for Low Sulfur Fuel
Q/A - Why Change the Former AMSOIL Diesel Fuel Additive
EPA Has Mandated Changes for 2007 Diesel Engines
AMSOIL Diesel Oil for Model Year 2007 and Newer Heavy-Duty and Pickup Truck Diesel Engines
---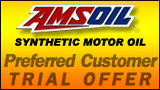 ---
Has the price of fuel got you down? We can help! Click on the following pages!
---
8.2% More MPG with AMSOIL Products
10 Ways to Help Reduce Our Dependency on Foreign Oil
AMSOIL Lubricants Save You Money
AMSOIL Reduces Operating Cost and Improves Efficiency
Amsoil Reduces Clark County Bus Operating Costs
---
Are You Concerned About the Environment? Please Read the Following
---
AMSOIL the Right Environmental Choice
Amsoil Preserving Our Environment
Synthetic Oils and the Environment
AMSOIL Pi Reduces Carbon Monoxide (CO) up to 26%
By-pass Filtration Systems Dramatically Extend Oil Drain Intervals
California to Bust 3,000 Mile Oil Myth
---
ExxonMobil Follows AMSOIL Into Extended Drain Market
Synthetics: The Auto Industries Best Kept Secret
Ten Myths About Synthetic Lubrication
AMSOIL, Inc. Product Chronology
North American Engine Oils May be Harmful to European Engines
Oil Color, Lubrication Ability and Contamination Level
The History of Engine Oil Filtration
---
Warranty Laws You Need to Know
---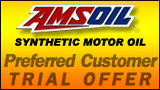 Comparative Motor Oil Test Results
AMSOIL Outperforms Valvoline Gear Lube
New White Paper - "A Study of Automotive Gear Lubes
Important Information: Converting to AMSOIL and Breaking in a New Engine
Easy Steps In Changing Automatic Transmission Fluid and Filters
Amsoil ATF Exceeds Ford Mercon V Oxidation Test
What to do when the Change Oil Light Comes On
40 Reasons for Oil Consumption
Amsoil Product Recommendations & Drain Interval Chart
Amsoil Motor Oil and Filter Guide
---
WIX Racing Oil, Air, and Fuel Filters
Red Line Oil vs. AMSOIL Racing Oil Wear Scar ASTM Test Results
Royal Purple Oil vs. AMSOIL Racing Oils Wear Scar ASTM Test Results
AMSOIL Checkered & Green Flag Racing Updates
---
---
Are Synthetics Really Too Expensive?
---
AMSOIL Distribution Center Locations
---
AGGRAND - Natural Lawn & Garden Products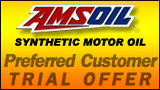 Amsoil Produces Environmentally Conscious Motor oil Products
Amsoil has produced Environmentally Conscious motor oil products since the introduction of the world's first synthetic motor oil, AMSOIL
lubricants have been setting new standards for motor oil quality.
It seems like messages on the importance of being "green" and erasing our carbon footprints are everywhere these days. (A
carbon footprint is the measure of the impact human activities have on the environment in terms of the greenhouse gases
produced, measured in units of carbon dioxide.) Consumers are becoming increasingly more conscious about how the purchasing
decisions they make impact the environment. On the other hand, worries over rising costs of everyday products (fuel,
groceries, etc.) have consumers scrambling to find a product they can feel good about that won't break the bank. Enter
AMSOIL.

Environmentally Conscious Products Since the introduction of the world's first synthetic motor oil, AMSOIL lubricants have
been setting new standards for motor oil quality. They are specially designed to protect engine components, reduce emissions,
last longer, reduce fuel consumption and prevent environmental pollution. From the beginning, AMSOIL synthetic motor oils
have outperformed conventional petroleum motor oils on all counts. AMSOIL INC. is dedicated to helping reduce negative
impacts on the environment. AMSOIL was the first to recommend 25,000-mile/one-year drain intervals. By safely extending drain
intervals, AMSOIL synthetic lubricants dramatically cut the volume of oil consumed and emissions produced. This is not a new
fad that AMSOIL is jumping on board with; it is the way AMSOIL has always operated. In addition to extended drain intervals,
AMSOIL synthetic motor oils are specially designed to provide superior protection for engine components, extending the life
of the engine and reducing the need for replacing engine parts. They are also thermally stable with a strong resistance to
high temperature volatility (burn-off), preventing sludge deposits and keeping engines clean. Low volatility and clean
operation reduce oil consumption and emissions. The advanced lubricity (slipperiness) of AMSOIL synthetic lubricants has also
been proven to increase fuel economy. This reduces dependency on foreign oil and overall fuel consumption. AMSOIL also
manufactures gasoline and diesel fuel additives that improve performance and fuel efficiency. AMSOIL P.i. Performance
Improver Gasoline Additive maximizes fuel efficiency by dissolving and removing fuel system deposits and other contaminants
for improved power and overall performance. It also reduces hydrocarbons up to 15%, carbon monoxide up to 26% and nitrous
oxides up to 17%. AMSOIL Diesel Concentrate Performance Fuel Additive improves performance, fuel efficiency and longevity of
diesel engines while reducing deposits, black smoke and emissions. It restores horsepower and improves fuel economy by
cleaning dirty injectors.

Environmentally Conscious Company AMSOIL INC. doesn't just leave the responsibilities of environmental protection to the
products; the company itself is diligent in its efforts to keep the earth clean. AMSOIL recycles virtually 100 percent of the
corrugated trays and packaging boxes that come into its facilities, equaling several tons of recycled cardboard each month.
All used steel drums and all "clean" plastic bottles are also recycled. AMSOIL is in the process of exploring how to recycle
used stretch wrap and banding as well. The AMSOIL Center was originally a grocery distribution warehouse, which required
109,000 ft2 of refrigeration and freezer space and 6.2 miles of copper pipe. Since AMSOIL did not need the refrigeration
systems, the Freon and the copper pipe were recycled before moving into the space. In addition to the copper pipes, the
AMSOIL Center came fully equipped with office furniture. Instead of tossing the furniture into a dumpster to be hauled off to
the landfill, AMSOIL partnered with an organization named Common Ground and donated it to 38 different nonprofit
organizations.

Environmentally-Directed Selling Consumers today are more selective than ever, which makes AMSOIL a perfect fit for their
needs. It is important to communicate that customers do not have to sacrifice power and performance to reduce their carbon
footprint. They can simply switch to AMSOIL. By switching to AMSOIL, customers receive all of the benefits previously
mentioned, as well as environmental benefits they may not be aware of. AMSOIL extended drain capabilities intrinsically
benefit the environment, as less waste oil needs to be disposed of. At the same time, AMSOIL reduces the number of times a
customer needs to get his or her oil changed, making extended drain intervals much more convenient. (This also reduces the
gas necessary to drive to the oil change facility every 3,000 miles.) Oil filters are also a significant contributor to
waste, and by using AMSOIL Ea Oil Filters (with extended drain capabilities), customers can be sure that they are receiving
the highest quality filtration. Using these filters also reduces waste as customers need to change them less often. AMSOIL is
dedicated to further reducing negative impacts on the environment, and encourages Dealers to do the same.

Options to Receive Information on Amsoil Lubricants and Filtration Products and the Amsoil Wholesale Purchasing Program
"We welcome the opportunity to work with you personally as your servicing AMSOIL Dealer."
Option 1 - The Best Option!
If you are serious about AMSOIL products and the business opportunity, this is the best option. You will receive extensive technical and business support from both myself and my AMSOIL Dealer Group. We look forward to helping you learn about AMSOIL. Also, we can help you set up a professional website to promote your AMSOIL Business. If you would like a comprehensive wholesale pricing, product, technical and business package sent to you just click the following link to our form: Request a Free Catalog & Info Packet
"FREE" Receive an AMSOIL Wholesale Packet, Product Data, Wholesale Price List, Dealer/Preferred Customer Application Form, and a Retail Catalog by Email.
Click Here for Your Free Packet!
Option 2 -
For a smaller, very general information package (which includes a catalog and Dealer application from Amsoil) you can request the information from any of the Amsoil links below.
To request a FREE Amsoil Factory Direct Catalog
For Information on Becoming an AMSOIL Dealer
To Buy AMSOIL Products in the AMSOIL On-Line Store
To Sell AMSOIL in Your Store or Purchase For Use in Your Businesses Equipment
To visit the AMSOIL Corporate Website for Product and Business Opportunity Information
AMSOIL is Proudly Made in the U.S.A.
About Us | Home | Contact Us | On-Line Store | Links | Privacy Policy | Site Map
Enhanced Synthetic Oil,
a Division of Racers Products, LLC
Kent Whiteman
Amsoil Regency Dealer
Ogden, Utah 84403
Phone Toll Free: 877-786-9582
Email: kent@enhancedsyntheticoil.com
Copyright© 2014 Enhanced Synthetic Oil a Division of Racers Products, LLC all Rights Reserved. No part of this authorized Amsoil Dealer website may be reproduced or distributed in any form or by means, or stored in a database or retrieval system, without validated prior written permission. Special undetectable methods are used that will identify any of this website material copied, reworded, rewritten, and published to the web.

Like us on Facebook