---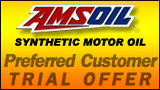 ---
Buy Wholesale
---
- NEW -
Amsoil Dealer ONLINE Registration the Fastest Way to Register
USA - Paper
Canada - Paper
Become an Amsoil Dealer and Buy at Wholesale Prices
Amsoil Preferred Customer Trial Offer Buy 25% Off Retail
Open a Commercial Business Account On-Line
Retail Accounts Sell AMSOIL in your Store or Shop
Amsoil Dealer Wholesale Price List
---
Request a Free Factory Catalog, Product & Technical Info
Toll Free 877-786-9582
---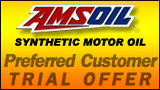 ---
Buy Now Online Store

To Order AMSOIL Products by Phone from Factory Call
7AM to 5PM Central Time
800-777-7094
Give the Operator
Reference # 1173195
---
Corporate Company, Products, and Opportunity Videos
---
Amsoil Snowmobile High Performance Oils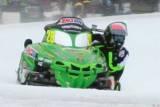 400,000 Miles of Snowmobile Testing - No Power Valve Sticking, Ring Sticking, & No Engine Failure!
A Look at Snowmobile Exhaust Power Valves
Amsoil Snowmobile Racing & Sponsorship
---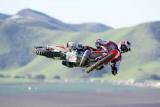 ---

Amsoil Motorcycle Synthetic Oils
AMSOIL Quality Impresses Harley Riders

AMSOIL Does not Void Harley Warranty
Why Harley Owners Choose AMSOIL Vs HD Oils
*NEW* EaO Synthetic Motorcycle Oil Filters Outperforms all other Cellulose and Synthetic Filters, Period
*NEW* EAA Synthetic Motorcycle Air Filters Surpasses all other Technology, Period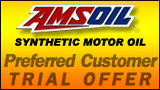 ---
Expert Advice For Your Vehicle
---
---

Amsoil Transmission Product Guide
---
Amsoil Turbo Diesel Pickup Truck Information Section
---
Ford Power Stroke 7.3 and 6.0 Turbo Diesels
Biodiesel Fuel and its effects on Engine Operation and Lubricant Service Life
*New* - Diesel Fuel Additive for Low Sulfur Fuel
Q/A - Why Change the Former AMSOIL Diesel Fuel Additive
EPA Has Mandated Changes for 2007 Diesel Engines
AMSOIL Diesel Oil for Model Year 2007 and Newer Heavy-Duty and Pickup Truck Diesel Engines
---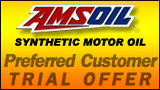 ---
Has the price of fuel got you down? We can help! Click on the following pages!
---
8.2% More MPG with AMSOIL Products
10 Ways to Help Reduce Our Dependency on Foreign Oil
AMSOIL Lubricants Save You Money
AMSOIL Reduces Operating Cost and Improves Efficiency
Amsoil Reduces Clark County Bus Operating Costs
---
Are You Concerned About the Environment? Please Read the Following
---
AMSOIL the Right Environmental Choice
Amsoil Preserving Our Environment
Synthetic Oils and the Environment
AMSOIL Pi Reduces Carbon Monoxide (CO) up to 26%
By-pass Filtration Systems Dramatically Extend Oil Drain Intervals
California to Bust 3,000 Mile Oil Myth
---
ExxonMobil Follows AMSOIL Into Extended Drain Market
Synthetics: The Auto Industries Best Kept Secret
Ten Myths About Synthetic Lubrication
AMSOIL, Inc. Product Chronology
North American Engine Oils May be Harmful to European Engines
Oil Color, Lubrication Ability and Contamination Level
The History of Engine Oil Filtration
---
Warranty Laws You Need to Know
---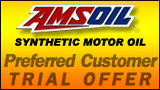 Comparative Motor Oil Test Results
AMSOIL Outperforms Valvoline Gear Lube
New White Paper - "A Study of Automotive Gear Lubes
Important Information: Converting to AMSOIL and Breaking in a New Engine
Easy Steps In Changing Automatic Transmission Fluid and Filters
Amsoil ATF Exceeds Ford Mercon V Oxidation Test
What to do when the Change Oil Light Comes On
40 Reasons for Oil Consumption
Amsoil Product Recommendations & Drain Interval Chart
Amsoil Motor Oil and Filter Guide
---
WIX Racing Oil, Air, and Fuel Filters
Red Line Oil vs. AMSOIL Racing Oil Wear Scar ASTM Test Results
Royal Purple Oil vs. AMSOIL Racing Oils Wear Scar ASTM Test Results
AMSOIL Checkered & Green Flag Racing Updates
---
---
Are Synthetics Really Too Expensive?
---
AMSOIL Distribution Center Locations
---
AGGRAND - Natural Lawn & Garden Products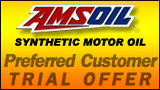 AMSOIL Customer and Race Team Documented Testimonial Reviews on Amsoil Synthetic Lubricants and Filters
AMSOIL customer and race team documented testimonial reviews on Amsoil synthetic lubricants and filters. Amsoil proves to each and everyone to be the best choice for many different applications.
Why Tornado Chasers Choose AMSOIL
| | | |
| --- | --- | --- |
| | | |
| | National Geographic - April 2004 | Kansas - May 29, 2004 |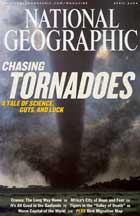 National Geographic - April 2004
*The National Geographic series "Explorer" on the National Geographic Channel aired the new show called "Secrets of the Tornado" on Sunday evening, September 18th. The show featured the research/probe deployment work of AMSOIL sponsored storm chaser Tim Samaras and his colleagues over the past couple of years.

My name is Tim Samaras, and I chase the most powerful storms on the planet. My passion and research is to intercept tornadoes in progress and deploy small probes directly in their path to record the extreme weather conditions inside the tornado core. Last year our team measured the largest barometric pressure drop ever recorded on June 24, 2003 of over 100 millibars as it destroyed the small hamlet of Manchester, South Dakota. The data has revealed several ďsecretsĒ of the inside of a violent tornado. Iím also featured in the April 2004 issue of National Geographic magazine, where a photographer was with me during the deployments and has captured some of the most astounding tornado images ever on film.

Every year my pursuit takes me to the great plains where I journey over 35,000 miles over 12 states within a period of two months. Using a petroleum-based motor oil, I used to change my motor oil every couple of days! Based upon these frequent changes, I decided to switch to AMSOIL synthetic motor oil, where I have extended my oil changes to over 7,500 miles! My vehicle has already seen some incredible abuse so far this year with over 15 tornadoes intercepted, where Iíve only had to change the oil three times, as my vehicle has already accumulated over 24,000 miles in May alone!

Tim Samaras

AMSOIL Gives Life to a Sweet Old Cadillac
Making a skeptic into a believer.

Dear AMSOIL,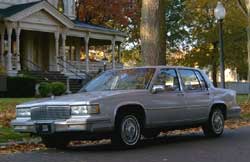 I thought you might appreciate hearing my AMSOIL story.
When the opportunity arose last year to purchase my mother-in-law's 1987 Cadillac DeVille, I jumped at the chance. A true low mileage survivor, it was in near pristine condition. I was proudly showing it off to a mechanic friend when he said, "Uh-oh, you bought an HT-4100? Good luck buddy."
After much research I understood what he meant. The HT-4100 was rumored to be one of the most troublesome engines Cadillac ever built. The problems are numerous: an aluminum block with cast iron heads that expand and contract at different rates causing premature head and intake gasket failure, coolant loss into the oil, and finally main and rod bearing failure. They also have a heavily loaded distributor gear, weak timing gears, and sludging issues.
My first thought was, if ever an engine needed AMSOIL, it's this one. I first heard about AMSOIL at the old Brohman Dragway in the late 1970s from a fellow racer who swore by it. For the past 10 years, I've used various synthetic oils with favorable results, but never AMSOIL. Then I talked with Dave Mann, the AMSOIL Dealer in my home town, and told him my story. Having spent 19 years as a lubrication specialist with Ford, Dave knows his stuff. He made several recommendations, and shared with me his excellent e-book on motor oils.
I also asked around at the Cadillac owners group I belong to, and almost every one of them said, "Don't buy AMSOIL! It's too expensive and won't do you any good. You need this or that oil with this or that additive," and so on.
So who was I to believe?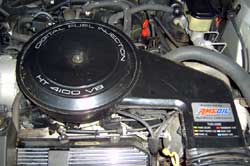 Having spent over 25 years in advertising and marketing, I have a strong skepticism for extravagant claims made by manufacturers. Usually, when you hear impressive adjectives like "advanced" and "superior," someone just wants your money or your vote (or both). So I read the science; from AMSOIL and from several independent studies. I came to the conclusion that it really is an excellent product. It also intrigued me that one of the primary sales points made by AMSOIL is to convince you to buy LESS of their product. That kind of marketing is contrary to anything I've experienced, and elevates AMSOIL's credibility level exponentially.
I switched the Cadillac over to AMSOIL 5W-30 (ASL) last fall, then put in AMSOIL 10W-30 (ATM) this spring (even though it's not a turbo, I like the extra wear protection offered by this formula). Rather than letting the oil go a full year, I change it every six months, during which time it accumulates about 6,000 miles. My dad was an auto mechanic and taught the 3,000-mile oil change rule like it was the 11th commandment - that kind of conditioning is hard to overcome. With this frequency, I still spend less money than if I changed the oil on a three-month/3,000-mile schedule. I use the money I save to have drain samples tested by an independent lab each time.
The Deville now has 50,000 miles and runs like a fine Swiss watch. I have not had a single problem with the 'troublesome' HT-4100 engine. It runs roughly 10 degrees cooler than with regular oil, and my gas mileage has increased by 10%. It has become my mission to get 200,000 miles from this car. With AMSOIL, I might just make it.
As an addendum, I also recently switched my wife's 2003 Oldsmobile Silhouette minivan to AMSOIL. Since we've owned it, this car has had a lifter clatter for the first 10 seconds on cold starts. Literally, on the first start after putting in AMSOIL, the clatter was gone.
Thanks AMSOIL. By making a superb product that truly does what you say it will do, you've given new life to a sweet old Cadillac, and made a believer out of this devout skeptic.
Steve Cook
Traverse City, Michigan
AMSOIL Products Make Believer out of Race/Show Car Owner.
Richard Giddens finds AMSOIL an Invaluable Asset for his Prize AMC Race Car.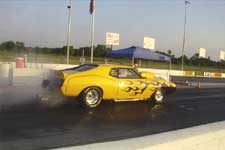 About three years ago a friend told me about AMSOIL products. He explained how they would conserve fuel in my Dodge pickup truck. At first I was skeptical. I thought this was just another product promising to work better than anything else. After some convincing I gave in and tried AMSOIL. My Dodge pickup was a 2000 year model with 140K miles on it. My truck typically got 19-20 MPG. That following weekend we traveled to West Texas. I carefully calculated the mileage. . .then recalculated the mileage. I was amazed to find that my truck actually got 22.23 MPG after switching to AMSOIL. That is an increase of 3 to 4 MPG.

I became a believer in this product. I added it to all of my vehicles including my 2002 41Ft. CAT Diesel motor home, 1971 AMX Javelin show car, and a 1971 AMX Drag Racing muscle car as well as my wife's 2004 Chevrolet Avalanche pickup. The performance of all the vehicles improved, especially my 1971 AMX Dragster. This car has an 800+ HP engine with a 15:1 compression ratio.

After 10 runs down the strip the cam distributor gears went out. I replaced the gears and added standard 20W≠50 Castrol racing oil (not AMSOIL). The car performed at 125 MPH in the quarter mile on the first run. This was 8 MPH slower than the typical 133 MPH I was getting with the AMSOIL product. On inspection of the car after this run 1 discovered that the new gears had also stripped out. Apparently the gears had never been compatible. I replaced them once more and this time added AMSOIL. My car resumed its outstanding performance on the track at 133 MPH in 10.38 seconds. I also believe that AMSOIL actually preserved my car's gears for those first 10 runs and they would have stripped sooner without AMSOIL. Now at 191K miles, my Dodge diesel pickup continues to perform well and maintains the 22 to 23 MPG.

Richard Giddens

Owner:
1971 Javelin AMX "Rare Breed" Race Car 1971 Javelin AMX Show Car
2004 Chevy Avalanche Pickup
2000 Dodge Turbo-Diesel Pickup
2002 41 Ft Cat Diesel Powered Motorhome

Note: The incompatible timing gears on the distributor of the AMX Drag Car lasted 10 runs before stripping out when lubricated by the AMSOIL Series 2000 20W-50 Racing oil. The next set of distributor timing gears were also incompatible and only lasted one 1/4 mile pass with Castrol 70W-50 Racing oil.
AMSOIL Races Against Drugs
AMSOIL is the proud sponsor of Race Against Drugs, a program developed by American Motorsports to assist with drug education in America. Race Against Drugs travels nationwide to inform children about the marvels of drug abuse. Race Against Drugs appears at race tracks (NASCAR, CART, IRL, APBA and others), community events (schools, shopping malls, parades and drug prevention rallies), trade shows (PRI, Circle Track and SEMA) and conferences (International Association of Chiefs of Police, Executive Offices Weed & Seed and the National Prevention Network).

Scott Steger, the deputy director of the organizations writes:

On behalf of all of us at Race Against Drugs, I would like to thank AMSOIL for the support. I am sure you are constantly complimented on the superiority of your products in racing, passenger and fleet use situations. In the past year, we at RAD have logged over 450,000 miles in our towing vehicles using your products to lubricate engines, transmissions, rear ends and more. Not one of our trucks has suffered down time due in part to your fine products and your willingness to assist with the program.

The Race Against Drugs Tide boat.

The Race Against Drugs Tide race car.
When we travel we are constantly asked about AMSOIL and why we choose to use your product instead of others. The answer is simple: superior quality, reliability, technical support, and your companys commitment to preventing our young people from becoming involved in drug abuse.
Check out the Race Against Drugs website for information about the organization and a schedule of future appearances. Find the homepage at: www.raceagainstdrugs.org
Ohio State University
AMSOIL Products Help Formula S.A.E. Racing Team Compete
THE AMSOIL REPORT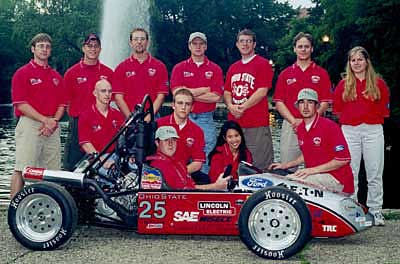 Ohio State University Formula S.A.E. Car #25 and Crew
Over the past year the Ohio State University has used and abused the AMSOIL product in our race motors. We have been through many oils before and our previous oil of choice was Mobil 1 0W-30. After contacting an AMSOIL representative our success with the product and the company as a whole has not stopped. After using Mobil1 with great success for a long time we were getting concerned with a couple of key issues. The two biggest questions were Is this really the best oil for our applications? and Is there another oil out there with comparable quality and performance without the huge price tag?"
Those are two questions that most individuals ask themselves at some point and on a cutting edge race team those two questions are asked everyday. Unlike many other cutting edge race teams though, we have a finite budget. Therefore we do pay attention to cost and bang per buck. That is where the price issue comes into the second question.
We had used many different oils in the past (Pennzoil, Valvoline, Klotz racing oil, and other major brands) but we have seen far more benefits working with AMSOIL. Mobil 1 gave us good oil in their 0W-30, but they fell short in many areas of need. After repeated attempts to call them and work out something where we could test oil and promote their product, they were nowhere to be found. Apparently they didnt need a university race team to join their Mobil 1 team. After getting excellent treatment from the people at AMSOIL and trying the oil in our dynos we havent looked back since.
More comprehensive and technical comparative analysis is on the slate in the near future but so far some conclusions can definitely be made. Our motors run well over 12,000 rpm and to the touch, smell and sight the AMSOIL product has performed as well and better than any oil we have had through our motors. We have seen their bold claims about their product stacking up, and we definitely put them to the test. We compete with over 120 teams worldwide (all colleges around the world). We have the future of the race industry, corporate automotive world and aftermarket engineers on our teams. There is a lot riding on the performance and quality approval of our oil. Competition has gotten tighter and tighter and AMSOIL has shown to be more than satisfactory in our power needs, engine protection and fuel economy. We have hopes of sending a sample of oil off to be analyzed after some runs in the next year, doing a simple burn test with some pans and a range of competitors oil, and possibly even some direct comparison work on the dyno. We design, build, test and compete with a new car every single year so time is tight but AMSOIL and the people with AMSOIL have blown away our expectations. We have tried many of their other products also and have seen similar levels of performance and quality. Some data collected below is shown for viewing and some comments are made within. Thanks AMSOIL!! (Special thanks to AMSOIL Dealer Sean Aughey!!)
Comments on the AMSOIL Product
"Our tests show AMSOIL Series 2000 Synthetic 0W-30 Motor Oil dramatically outperforms popular conventional and synthetic motor oils in many areas below."
Fuel Efficient Formula
"Your claims have been reinforced from our experience in this area. In the fuel efficiency portion of our competition this product was part of the puzzle for improvements."
High Temperature Protection
"Your claims have been reinforced from our experience in this area. Our motor is water cooled and running over 12,000 rpm at some points. Yet the 0W-30 oil has been satisfactory even when dyno water temperatures are at scary levels."
Low Temperature Protection
"We dont see many of these conditions."
Heat Stability
"Your claims have been reinforced from our experience in this area."
Clean Engine Formula
"Your claims have been reinforced from our experience in this area."
Shear Stability
"Your claims have been reinforced from our experience in this area."
Service Life
"Even in times when we were testing one of the race cars and forgot to change the oil for an extended amount of time the AMSOIL 0W-30 product has held up. I guess the only other thing I could say is that I wish you carried an oil filter for a Honda 600cc CBR-F3 because we would be sure to try it out. We thank you for your support and hope that we can give you additional relevant feedback in the future."
Take Care,
Brandon T. Fleishour
The Formula Buckeyes of Ohio State University
Competition
The Ohio State University Formula S.A.E. Race Team is one of many teams competing in an annual design competition for collegiate students. The international competition is promoted by the Society of Automotive Engineers and sponsored by Ford, Daimler Chrysler, General Motors and EDS. Through the course of one year, Formula S.A.E. team members design fabricate, test, and promote a formula style race car to compete every May in Detroit, Michigan against approximately 120 other universities worldwide. Competition regulations foster innovation, knowledge and teamwork in the students. A new car must be completed every year and consequently, OSU Formula S.A.E. team members gain invaluable experience through practical hands-on problem solving experience.
Team Development
The Ohio State University Formula S.A.E. Race Team is continually expanding and currently comprised of approximately 50 students from the freshman to graduate student level. The team consists of two captains and 13 project leaders who are responsible for various aspects of the teams development such as chassis, engine, suspension, electrical, drive train, finance, sponsorship and public relations. Assisting in those responsibilities are approximately 35 other members. These members grow through interacting with the team leaders on specific products. Currently the following curricula are involved with the team; mechanical engineering, industrial design, chemical engineering, computer science, business, marketing, computer science and communications majors. The leadership, managerial and organizational skills required of a team member become valuable assets throughout their careers.
Team Notes
2001 Season 3rd Overall (of 140 Teams)
Acceleration - 1st
Autocross - 6th
Cost Analysis - 3rd
Design - 2nd
Endurance - 10th
Skidpad - 20th
AMSOIL Saves A Dream Weekend
At Saturday's World Championship races at Crandon International Raceway, Scott Douglas quickly moved into the lead on lap one with the AMSOIL, KUMHO, Rancho, Super Team F-150. By lap five Douglas' oil temperature going into the engine was over 310 degrees due to an oil cooler flow issue. After winning the race, Douglas quickly had the Speed Channel camera crew zoom in on his truck gauges to document the temperatures as he credited AMSOIL for keeping the Pro Power Racing engine alive. "It was great to win but we had big concerns about our primary engine because there were two more big races to run and our primary engine is about 40 HP more than the spare," said Douglas. "After thoroughly inspecting the engine, it was perfect. I can't say enough about AMSOIL products, they not only saved the engine, AMSOIL saved the weekend as we went on to win the Pro-4 race on Sunday and then captured the $125,000 Borg Warner cup later that same day. AMSOIL truly saved our record-breaking dream weekend."
THANKS AMSOIL!
Sincerely,
Scott W Douglas
Douglas Motorsports, Inc
AMSOIL helps "Frankenstein" Come to Life.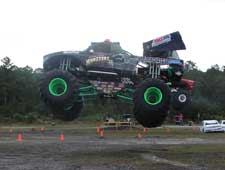 As the owner of a 21 monster truck fleet, we use AMSOIL in all of our Monster Trucks. What a difference in performance. A lot less maintenance on the motors themselves.
With the tight and hectic schedule that we keep at times, we need to know that we can depend on AMSOIL motor oil for the extended mileage we put on our haulers between oil changes.
In my monster race truck, "Frankenstein" I run a 572 KBH Dodge Hemi Motor with no water and no radiator and heat is a big problem. Running with the AMSOIL keeps better oil pressure which prevents overheating! I also run the AMSOIL oil in my baha boat with now runs much quieter. And in addition I also use it in my Harley Ultra Classic Motorcycle. There is NO OTHER oil that even comes close to the AMSOIL products.
Paul Shafer
Owner: Paul Shafer Motorsports
Click Here to visit Paul Shafer Motorsports' Team AMSOIL Page
Dear AMSOIL:
A friend of mine has debated for several years on using AMSOIL in his cars saying that it was too expensive. I have tried to tell him that in the long run it is cheaper.
About three weeks ago he came to me and said his car will not pass New Jersey State inspection because it smokes when accelerated and did not think using AMSOIL would get the car to pass inspection by eliminating the smoking. I told him that if his oil rings were in fair shape, AMSOIL would most likely stop the smoking when accelerating. The inspector told him he would have to have the motor over-hauled.
He purchased 4 quarts of AMSOIL 10W-30, Engine Flush and a filter.
He stopped last night (March 19, 2002) and told me that his car passed inspection with flying colors and the only thing he did was to use the AMSOIL Engine Flush and the 10W-30 Motor Oil.
He was planning on over-hauling the engine this summer, but since the car passed inspection he has decided to see how many more miles he can go before he must rebuild the engine. The car presently has 220,000 miles on it.
He has now decided to convert his other car and his pick-up truck to AMSOIL.
I have never see a person so excited and happy as he was when he stopped here. he had just come from the inspection station and couldn't wait to tell me that AMSOIL is more than he expected. he has noticed the easier starting on cold mornings; no more valve lifter clacking and oil pressure is there as soon as he starts the car.
We have another satisfied and happy customer.
Thank You,
Norman P. Crawford
AMSOIL Dealer

DiamondBack Truck Covers Teams Up with AMSOIL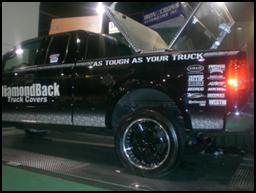 DiamondBack Truck Covers manufactures the DiamondBack HD, ATV Solutions systems, Commercial Solutions systems, and the new Standard Edition (SE) Cover. DiamondBack Truck Covers delivers the most versatile truck bed solutions available today for Ford, Chevy/GMC, Dodge, Toyota, and Nissan offering a hauling platform capable of supporting between 400 and 1600 pounds (depending on the model). Itís truly a cover ďAs Tough As Your TruckĒ. We find ourselves in out in the middle of nowhere, driving where roads donít exist, and using our trucks like they were intended. And because of this, our choice is AMSOIL for all our oil/lubricant needs. AMSOIL has given us an increase in MPG and overall performance. From whether itís towing our 20ft. trailer across the country and back, or hauling 2 ATVs on top of the cover in rough terrain, we need to know weíre getting maximum performance from our trucks.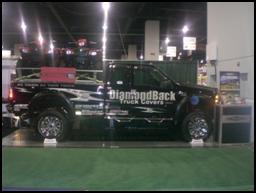 Throughout the year weíve found ourselves as far south as Texas, as far west as Nevada, as far east as North Carolina, and as far north as New Hampshire. We put on a lot of miles attending 15-20 shows a year. The trucks in our fleet include a 2006 Ford F-250, a 2005 Dodge Ram 2500, and a 2004 Ford F-150. Having extended drain intervals for these trucks saves us time, energy, and money. AMSOIL gives us the peace of mind knowing our engine is being taken care of when we donít have the time to do it ourselves.
Thanks AMSOIL !
The DiamondBack Team
www.diamondbackcovers.com

AMSOIL is the undisputed leader in synthetics......
Since 1972, AMSOIL Synthetics have proven to be the BEST. AMSOIL also engineers and manufactures Super Duty Oil filters which have a 25,000 mile service life as well as specialized filtration systems for commercial and fleet applications in cars and light, medium and heavy trucks which can filter particles down to less than one micron (a standard full flow oil filter can only filter to 20-25 microns with any degree of efficiency) making oil changes virtually unnecessary and virtually eliminating engine wear. These filters have been proven by millions of miles of over-the road trucks, construction equipment and fleet service.
∑ AMSOIL saves you time and money.
∑ The only 25,000 mile/one- year and 35,000/one- year motor oil in the world.
∑ Exceeds the most stringent performance specifications of all major U.S. and foreign automotive and truck manufacturers.
∑ Provides up to two-times the wear protection of other motor oils.
∑ Increases the life of your vehicle.
∑ Improves performance, fuel economy and efficiency.
∑ Diesel oil and filtration products designed to deliver 1,000,000 miles for over-the-road trucks before engine overhaul.
∑ Used by many national racing teams, fleets, police departments, construction firms and trucking companies.
Enhanced Synthetic Oil is comprised of a group of highly skilled team of Engineers and Lubrication and Filtration Specialists. You too, can join our group when you become an AMSOIL Dealer and take advantage of all that we offer as you use products in your own vehicles or begin your own AMSOIL business. You won't find a more knowledgeable and skilled group of Dealers anywhere which is very important when you need support as you build your business.

We offer FREE comprehensive product and technical information along with offering wholesale pricing Dealerships. We specialize in Amsoil business development training, internet marketing, business promotion, and sales programs.

We do not only run our business on the internet. We also have numerous commercial, industrial, trucking, excavating, construction, logging, police, racing and many more accounts that we support and service on a regular basis. We have several fully stocked warehouses and fully equipped shop facilities. This provides us with excellent knowledge of the products, equipment and the business and the ability to respond immediately to any of your needs. We will use this knowledge and experience to help you get started so you too can achieve your goals.

We possess the skills, desire and knowledge to answer questions, solve problems, improve efficiency, reduce downtime, maintenance costs and increase the durability and life of all of your vehicles.

Read what our satisfied customers have to say about us. Read through our website. Contact us with any questions. If you decide to become an AMSOIL Dealer you will be joining, in our opinion, the most skilled AMSOIL group there is. We will help you get started and provide you with the tools and information in order to be successful in this business or with technical and product assistance to use AMSOIL products in your own vehicles.
Options to Receive Information on Amsoil Lubricants and Filtration Products and the Wholesale Purchasing Program
We welcome the opportunity to work with you personally as your servicing AMSOIL Dealer.
Option 1 - The best option
If you are serious about AMSOIL products and the business opportunity, this is the best option. You will receive extensive technical and business support from both myself and my AMSOIL Dealer Group. We look forward to helping you learn about AMSOIL. Also, we can help you set up a professional website to promote your AMSOIL Business. If you would like a comprehensive wholesale pricing, product, technical and business package sent to you just click the following link to our form:
"FREE" Receive an AMSOIL Wholesale Packet, Product Data, Wholesale Price List, Dealer/Preferred Customer Application Form, and a Retail Catalog by Email.
Click Here for Your Free Packet!
Option 2 -
Email us at kent@enhancedsyntheticoil.com and we will send you an exclusive comprehensive package of product, technical and business information.

Option 3 -
For a smaller, very general information package (which includes a catalog and Dealer application from Amsoil) you can request the information from any of the links below.
To request a FREE Factory Direct Catalog
For Information on Becoming an AMSOIL Dealer
To Buy AMSOIL Products in the AMSOIL On-Line Store
To Sell AMSOIL in Your Store or Purchase For Use in Your Businesses Equipment
To visit the AMSOIL Corporate Website for Product and Business Opportunity Information
AMSOIL is Proudly Made in the U.S.A.
About Us | Home | Contact Us | On-Line Store | Links | Privacy Policy | Site Map
Enhanced Synthetic Oil,
a Division of Racers Products, LLC
Kent Whiteman
Amsoil Regency Dealer
Ogden, Utah 84403
Phone Toll Free: 877-786-9582
Email: kent@enhancedsyntheticoil.com
Copyright© 2014 Enhanced Synthetic Oil a Division of Racers Products, LLC all Rights Reserved. No part of this authorized Amsoil Dealer website may be reproduced or distributed in any form or by means, or stored in a database or retrieval system, without validated prior written permission. Special undetectable methods are used that will identify any of this website material copied, reworded, rewritten, and published to the web.

Like us on Facebook